. . . so then,
after this
, Peepy and I found ourselves in a very warm place . . .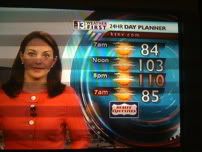 (Um. Either the lady was giving the weather report from prison or my camera was acting weird. You decide.)
Yes! We were in
Las Vegas
. . .
I wasn't there to gamble or to see the shows or to say hello to
Mr. Las Vegas
. I was there for something even better-- the
Nevada Library Association
Conference. It was held at
Santa Fe Station
Hotel and Casino.
Peepy
had never been to a casino before. She loved the bright blinking lights and was convinced they were all for her . . .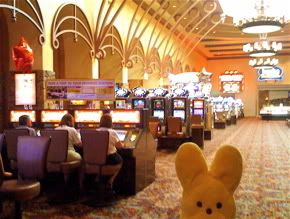 Peeps couldn't wait to hit the gaming tables, but no one would play with her . . .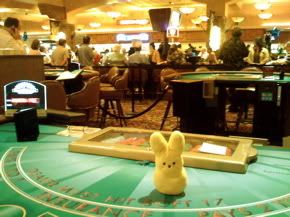 It was just as well. She doesn't have much of a poker face.
That evening we met up with our friend
Barry Lyga
, author of such great books as
FAN BOY AND GOTH GIRL
and
BOY TOY
. Here's Barry signing a book for us. Wheeeeeeeee . . .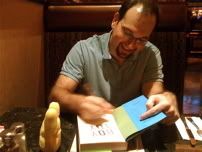 Immediately after dinner (chocolate cake was involved), Peeps and I bypassed the casino in favor of our room. I know, I know, we are soooooooo exciting. But there was plenty-o-work to be done . . .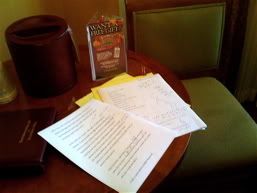 The indomitable
Roger Sutton
asked me to write a short piece for the November issue of
HORN BOOK
, plus I also brought along JUST BOBBY TITLE TO BE CHANGED.
The next day was time for this . . .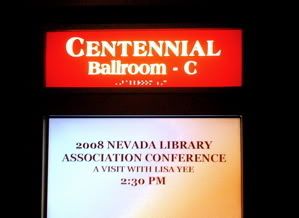 Here are librarians starting to fill up the room . . .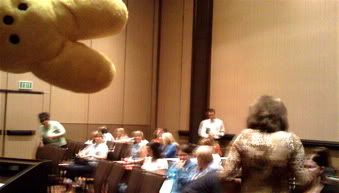 It was great fun! Afterward, our bookseller friends from
NeverEnding Story
were there and we signed books and talked about how it felt to win a million dollars at roulette. (One of those things didn't really happen, yet.)
Then it was time to head back to home. But before we left, Peeps played the slot machines . . .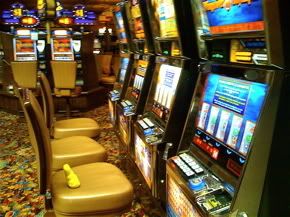 (Sadly, she lost all of her allowance.)
Next blog: What not to do to your computer.
Subscribe to Lisa Yee's Blog and get her fresh baked blogs e-mailed to you!