Last Friday I ventured out and found myself in a traffic jam. Google Maps had said it would take between 50-minutes to two hours, this being Los Angeles. Where was I headed? To the
Children's Literature Council of Southern California
Board of Directors Meeting! Hence to be known as CLCoSCBoDM.
It was in a new location and you know what that means. Right. I got lost. My handy GPS system got me to the
Stephen S. Wise Elementary School
, but once on campus I basically just wandered around aimlessly and stared at the map (I can't read maps) . . .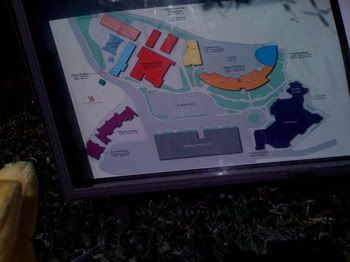 A couple other board members found me and guided me to the library where Peepy and I had a chance to snoop around . . .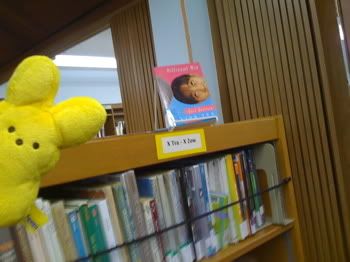 She was excited to see where her book (a memoir/fashion guide) would be in the card catalog . . .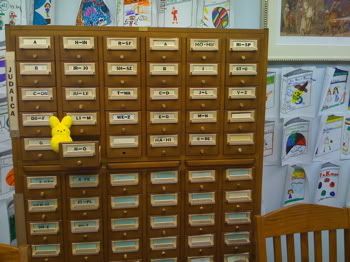 Peep's intent on getting Page Six "It Editor"
Mark McVeigh
to publish her memoirs. I think she's dreaming. I mean, c'mon. After
this bad behavior?
. . .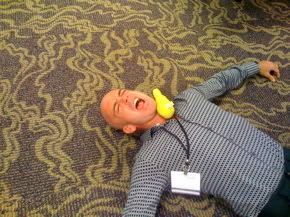 Suddenly, it was time for our meeting. Here's the
Board of Directors
in action--some people are hiding and a few never found the meeting place . . .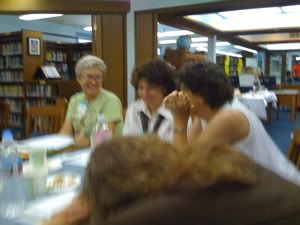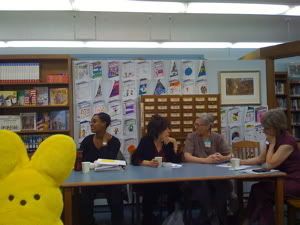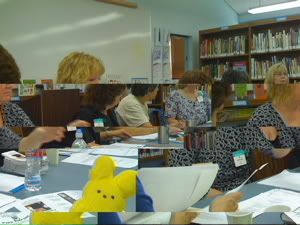 (I'm not sure what happened to that last photo, but let's pretend it's modern art.)
On the CLCoSCBoDM agenda was the 10th Anniversary of
HOLES!!!
Guess where
Louis Sachar
will kick-off the 10th Anniversary of his Newbery Award-winning novel? Yes! Yes, you're right if you said, "Lisa, I bet he'll be at the Children's Literature Council's FALL GALA!" (Snort, I was having typers mixupion and accidently wrote "GALL FALA," first.)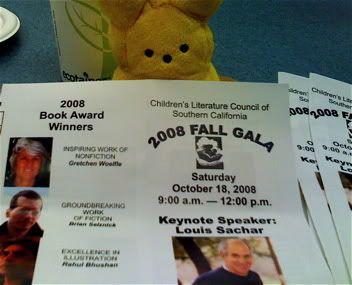 For more info for this October 18th event,
CLICK HERE
.
BTW, here's a bit o' trivia . . .
Henry Winkler
, who's
Lin Oliver's
writing partner for the
Hank Zipzer series
, is also the Dad in the
HOLES movie
. . .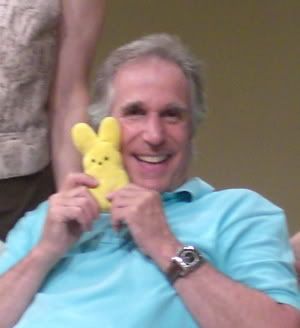 And get this. Henry used to play
"The Fonz,"
a really cool dude on
HAPPY DAYS
. The week The Fonz got his library card, libraries all across America reported that library card registration went up 500 percent!
Oops. Digression. Okay, back to to the CLCoSCBoDM. Even though it was exciting and fun-filled, Peepy got bored. (She has a short attention span.) So Peeps wandered around and eventually found her way to the snack table . . .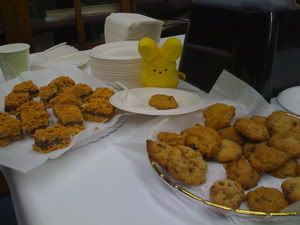 After the CLCoSCBoDM, I remembered that there was
Krispy Kreme
in the area. Donuts figure prominently in the chapter book series that I'm writing and rewriting and revising and revising, so of course research was in order . . .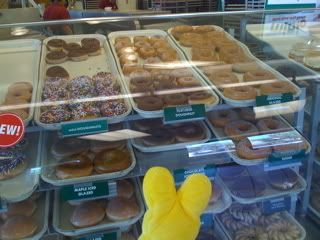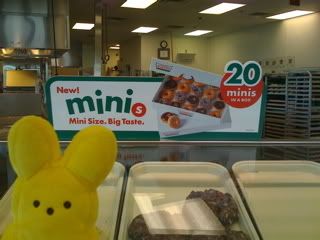 Wheeeeee . . . they now make Mini Donuts EXACTLY like the ones in my book!!!! In fact, I think they did it because of my book. But whatever the reason, yum!
Hey, if any of you live near Alhambra, CA, I'll be speaking at the
Grand Opening
of the Alhambra Public Library on Saturday morning. Then I'll be at
Julia DeVillers
and
Sabrina Bryan's
uber trendy
book launch party
. On Sunday I'll be on the YA Panel at the
WeHo Book Fair
at 1 p.m. I'll have more info on all of this later in the week. In the meantime . . .
Subscribe to Lisa Yee's Blog and get her fresh baked blogs e-mailed to you!