Sometimes authors spend many hours lovingly crafting their words, phrases, thoughts into something beautiful. But not here. Instead, I've lumped together some random this, that and the other thing(s).
Remember Peepy and her
Krispy Kreme Donuts
?
Gone!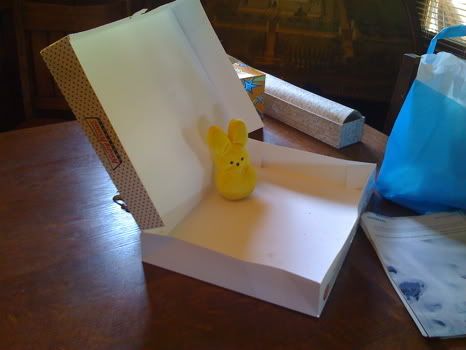 I was going over the galleys to my story for the GEEKTASTIC anthology . . .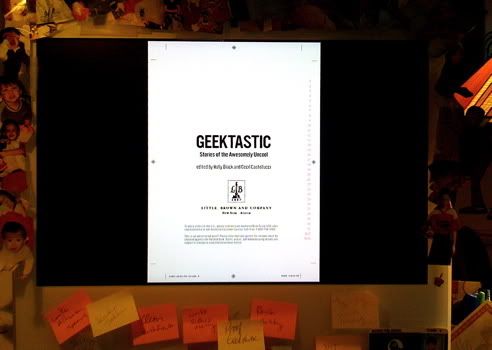 . . . but got sidetracked trying to put this hat on my dog. It took a lot longer than I thought it would . . .
I can't wait until GEEKTASTIC-STORIES OF THE AWESOMELY UNCOOL comes out in the spring.
Holly Black
and
Cecil Castellucci
are editing and it features a Who's Who of YA literature, like Printz winner John Green, who
I grilled
a novel or so ago, NY TIMES bestseller
Libba Bray
, National Book Award winner
MT Anderson
,
Brad Pitt
and
Scott Westerfeld
who named a book after Peeps. (Okay, I made up something there, but I refuse to say what.)
A couple weeks ago Peepy and I were in Las Vegas for the
Nevada Library Association
Conference . . .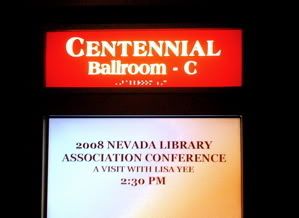 Then last week-ish I discovered that the second answering machine we have, that I thought was off, was on. There were sixteen old messages including one from SECURITY at the hotel I was staying at in Vegas. They wanted to discuss "THE INCIDENT THAT OCCURRED IN YOUR ROOM."
So I called, but their computers were down, and they couldn't recall it. They asked me what happened, and I couldn't remember either. All I remember is
going to my room by 8 p.m.
because of something
Roger Sutton
of
THE HORN BOOK
asked me to do. So if anything did happen, it's all Roger's fault.
Hmmm . . . or is it possible Peepy got into some mischief?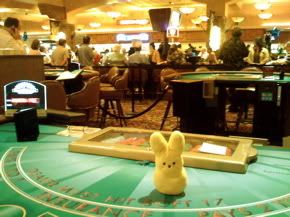 She's been quite full of herself ever since this . . .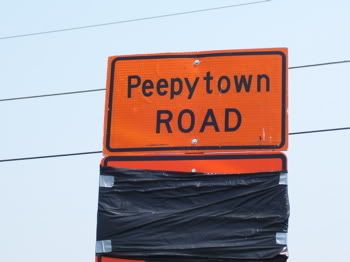 The photo came to me via author
David Lubar
via librarian Kris Peters of the
North Carroll Branch Library
in Carroll County, MD.
On Saturday at 10 a.m. I will be the keynote speaker at the
Grand Opening of the Alhambra Public Library
. The library is right next to
my high school
. I used to cut class and go there all the time. What a dweeb! Here's what I looked like in high school vs me now . . .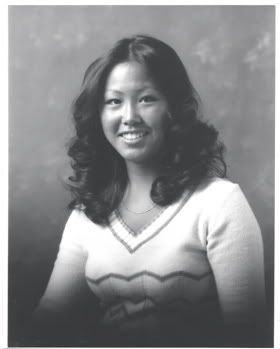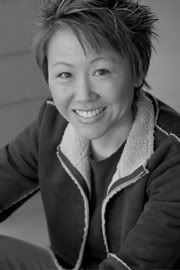 BTW, it took about four hours every morning to get that HS hair.
On Sunday at 1 p.m. I will be at the
West Hollywood Book Fair
at the Fiction Pavilion. I'm on a YA panel, moderated by
Leigh Purtill
, along with
Janet Tashjian
,
Joyce Lee Wong
and
CG Watson
.
Last year at the Fair, there was the
Lisa Yee/Lisa See Incident
. . .
Apparently, the organizers thought that author Lisa Yee was author Lisa See, and instead of Lisa Yee's books, they had Lisa See's books.
Here is the only known photo of Lisa Yee and Lisa See together. It was taken
here.
See, Lisa Yee is not Lisa See . . .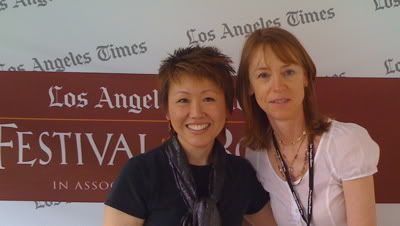 Hopefully this year I will be able to retain my own identity. I'll let you know how it goes.
BTW, want to see something cool?
CLICK HERE
.
Subscribe to Lisa Yee's Blog and get her fresh baked blogs e-mailed to you!