Last weekend (I know, I know, I'm sorta behind here) I was at the
West Hollywood Book Fair
.
I used to live in West Hollywood when I was younger and chic-er. (Chicer?) My apartment was right off of the famed Sunset Strip, below the
Roxy nightclub
. . .
Every night I'd go out clubbing with celebrities until the wee hours of the morning. I hardly remember any of it. Well, probably because it didn't happen. However, I did live in West Hollywood below the Roxy.
Oh! And when I was in
college
, my pals and I got arrested in West Hollywood for putting up
Mummenschanz
posters for our Cultural Events Committee. (Yep. The delinquent dweebness continues.)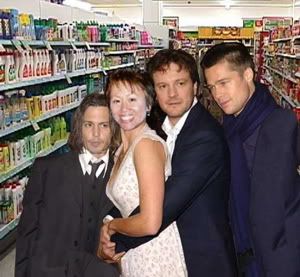 Oops! How'd that get there? That's not the Mummenschanz poster.
We got to see the inside of the West Hollywood Police Department. In
my upcoming YA novel
. . .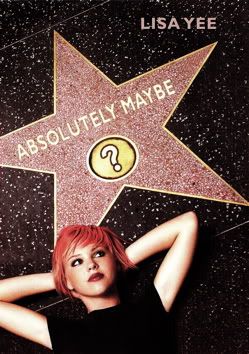 I recalled that experience when Maybe was at the police station.
So when
Leigh Purtill
invited me to be on a YA Panel at the Book Fair, I said yes! I was at the Fair last year when the
Lisa Yee/Lisa See
incident occurred and I hoped that this year they'd know that we were two different people.
Peepy and I parked at the what the local calls
"The Blue Whale"
. . .

Oops. Wrong Blue Whale. Here's the correct one . . .

Then it was off to the fabulous
WeHo Book Fair
. . .
Before we went on, we hung out at in the Green Room with all the other authors . . .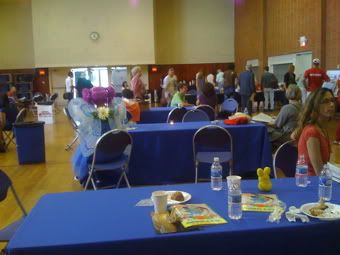 Francesca Lia Block
was there prior to her interview with
Mark London Williams
. . .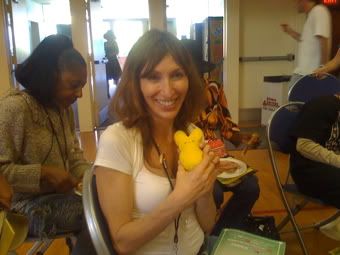 Then it was off to our panel. Even though
Ray Bradbury
was speaking at the same time, we still drew a crowd! Here's the crowd from the blimp and close up . . .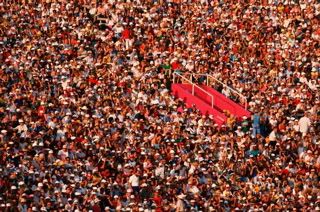 Leigh moderated. The topic was "Tough Issues, Light Touches: Writing for Teens Without Turning Them Off" and the topic-ees included . . .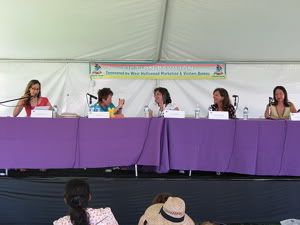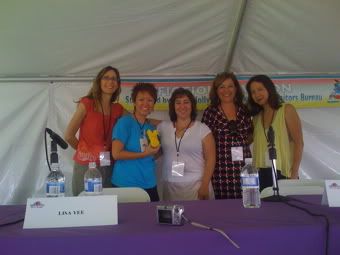 (Above:
Leigh
,
Moi
,
CG Watson
,
Janet Tashjian
, and
Joyce Lee Wong.
We had a wonderful time!
Later it was time to wander the Book Fair . . .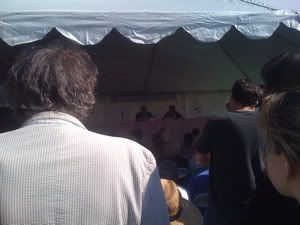 (That last photo is of
Robert Wagner
. It's hard to see, but I could tell he was looking right at me. Robert's an actor who was once married to
Natalie Wood
who was in
REBEL WITHOUT A CAUSE
starring
James Dean
, who Hollywood, a character in
ABSOLUTELY MAYBE
, is obsessed with. Um, I thought you'd want to know.)
Oh! And LOOK!!! This year they had my books and not Lisa See's!!!
(I think I put Joyce to sleep.)
What's next? Well, soon I leave for Frisco, Texas where I'll visit nine schools and speak at
Frisco Reads.
I'll be sure to let you know all about it when I get back!
Subscribe to Lisa Yee's Blog and get her fresh baked blogs e-mailed to you!