Lisa Yee's 275th Annual Bodacious
Book Title Contest continues
. (Past contests have had entries
like these
laugh-so-hard-milk-comes-out-of-your-nos
ers.)
While you're busy coming up with brilliant and witty Bodacious Book Title Contest entries, I thought I'd tell you who the Good-Looking Celebrity Judges are this time. But wait! Here's a hint for the Nancy Drewers and Hardy Boyers in the audience: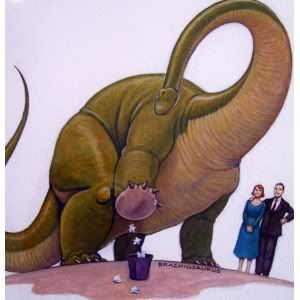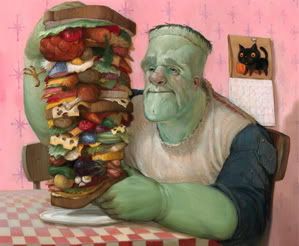 Oh, and before I tell you more, guess where I was last week? Here's a hint: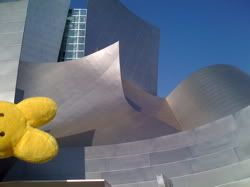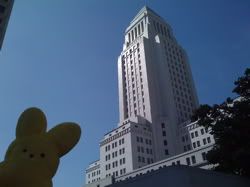 Yes, you are correct. I was at jury duty. (Those are shots of downtown Los Angeles where we were.) We had a great JUDGE and after two days, I was dismissed and so was Peepy. But not before we saw
Phil Spector
and his giant bodyguard roaming the hallways as his murder trial jury was being selected . . .

(When I saw him, Phil had changed his hair style from the above to longish wavy brown hair.)
Oh, but I digress. Back to the reveal of our Good-Looking Celebrity Book Title Contest JUDGES. But wait some more. Guess where I was over the weekend? Here's a hint:
Yes! You are sooooo smart!!! I was in San Francisco. While there I picked my finalists for
Adam Rex's Haiku Contest
, me being an
Official Haiku JUDGE
and all.
Then I got to visit the wonderful Main Branch of the
San Francisco Public Library
and have
COFFEE!
with a former Newbery JUDGE and
former Bodacious Book Title Contest JUDGE.
Lookit! Here's Carla Kozak (as mentioned above) giving Peepy a tour of the eye-popping
Robert Sabuda
exhibit.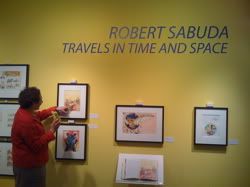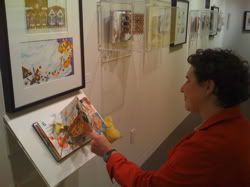 (Robert and I were both JUDGES at the
SCBWI School Visit Contest
.)
Okay, ready to find out who your JUDGES are for the Book Title Contest are??? Here's one final hint: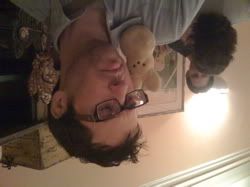 Can you guess? Go ahead, try! Hmmm . . . I think I'll confirm who the judges are on the next blog. In the meantime, keep those Book Title Contest Entries coming!
Remember, you must
CLICK HERE
to enter or to read the hysterical entries we have so far.
Subscribe to Lisa Yee's Blog and get her fresh baked blogs e-mailed to you!