Okay, pens down!
The 123rd-ish Annual Lisa Yee's
Bodacious Book Title Contest
is officially closed. We would have let the contest run on November 4th, but it would have distracted from The Election.
More on that, but first this . . .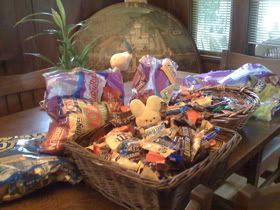 We had waaaaay too much Halloween candy to pass out this year and not enough kids in costumes. Usually we get anywhere between 14,503 and 14,504 kiddos. Was it just our neighborhood or was it sparse Trick or Treating elsewhere?
I think everyone was over at
Scholastic Headquarters
. . .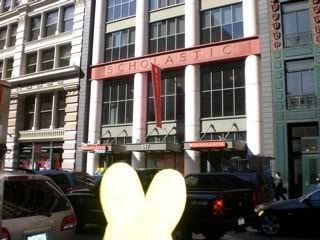 . . . in the Big Apple . . .
(Speaking of Big Apples, I WIPED OUT MY ENTIRE iTUNES LIBRARY!!!! Sigh. Yes, this sort of thing
has happened before
. But now I have TIME MACHINE and was able to get it back!!!)
Oops, time to get back to Scholastic. Get it? Time Machine . . . time to . . . never mind. Okay, well, to coincide with our Book Title Contest, some smart, talented, candy-loving Scholastic executive-ites had a Halloween Costume Contest and lookit! Lookit!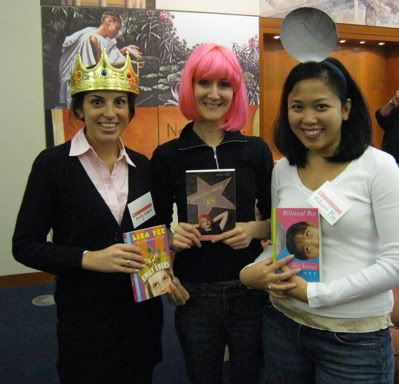 Yes, it's three gals from my novels! That's
EMILY EBERS
aka Samantha Wolfert (my Publicist) and
MAYBE CHESTNUT
aka Leslie Garych (VP Marketing) and
MILLICENT MIN
aka Charisse Meloto (Publicity Director)! How cool is that?
Um, what about the Book Title Contest, you're asking. I've
read the entries
and they're hysterical.
Well, here's the deal. At this VERY MOMENT our
Good-Looking Celebrity Judges
are pouring over the
thousands of entries
. They (the judges) are locked in a small room and given only bread, water and excess Halloween candy to eat. Once they have come to a consensus, I will post the winners. (I figure in a week-ish?)
In the meantime, one half of the
NICK AND NORAH'S INFINITE PLAYLIST
authors has come ashore. (He had been adrift.)

We asked him the same hard hitting questions
we asked Rachel Cohn
.
These are
Scholastic editor
and author
David Levithan's
responses . . .
Q. Do you prefer popcorn or candy when you go to the movies?
A. Popcorn, but that's mostly because movie theaters no longer sell Sugar Babies.
Q. How many times have you seen this
FABULOUS film
?
A. Eight, as of this writing.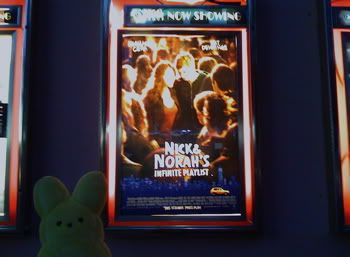 Q. What's the oldest thing in your refrigerator?
A. Pink wine! It's become something of a running joke – for a party I had in, oh, 1997, my best friend's visiting Australian friend brought this weird pink wine. I put it in the fridge unopened, and it's been there ever since.
Thank you, David! But why are you sitting around drinking coffee? Get out and VOTE!!!!
UPDATE UPDATE UPDATE UPDATE UPDATE . . .
The election results are in. I can exhale now. "Change has come to America."
Subscribe to Lisa Yee's Blog and get her fresh baked blogs e-mailed to you!