Peepy and I are in New York right now. We arrived on Monday and stayed at the uber swanky
SoHo Grand Hotel
.
Peeps was excited because that's where all the celebrities stay -- and she saw the biggest star on the planet. Only, when we looked closely we realized she was looking in a mirror . . .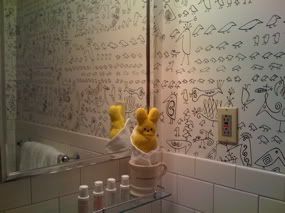 (Above: Peeps in our hotel bathroom. Don't you LOVE the wallpaper?)
Early the next morn, we went to the
Montclair Kimberly Academy Book Fair
. We had been invited by
Judy Newman
, President of Scholastic Book Clubs, to speak at the Middle School.
Brandi Dougherty from Scholastic made sure we made it safely from SoHo to Montclair . . .
(Above: Here I am with John Lithgow, sort of. Lemony Snicket was there, too. Only we weren't all in the same place at the same time.)
(Above: All the seats were eventually filled and we all had a blast!)
Afterward, it was time to sign books at the BIGGEST
Scholastic Book Fair
in the country . . .
There was this really cool jungle-themed reading tent, and while I was signing kids were sprawled everywhere with their noses in books!
Peepy loved hobnobbing with her many fans . . .
She was especially pleased because the school showered her with bling . . .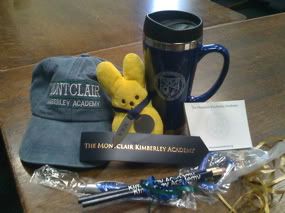 (I also got the
the coolest socks ever
thanks to Carol Levine and Scholastic. But I'm not sharing with Peepy.)
My editor
Arthur Levine
was with us for the day. Later he took Peeps and Moi to
Watchung Booksellers
. It was sooooo warm and cozy and delicious inside. We would like to live there and gobble up all the books . . .
The next day was full of even more excitement. There was a luncheon in Peeps honor here . . .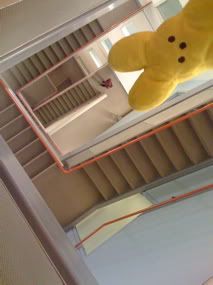 Stay tuned to our next blog to find out where the mystery stairs lead!
Subscribe to Lisa Yee's Blog and get her fresh baked blogs e-mailed to you!