A short time ago, when a gallon of gas was the price of a Value Meal at McDonald's (it's now the price of a Happy Meal), we had our 97th Annual
Bodacious Book Title Contest.
Rare and wonderful prizes tempted all those who entered . . .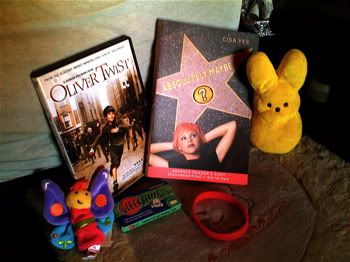 (Disclaimer: Peepy not included)
Talented,
good-looking judges
culled through 148,004,991 entries . . .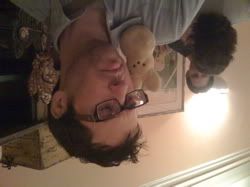 (Above: Talented and good-looking
Mark Teague
and
Adam Rex
were so impressed with the titles that it rocked their world, upside-down.)
Finalists were selected and
TWO WINNERS
were named!
Peepy and I were so pleased we even added more booty to the mix of prizes, like a signed EMILY EBERS, Marshmallow Peeps, and classy candy eyeballs . . .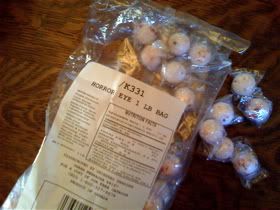 And we shipped off the Publishers Halloween Clearing House prizes . . .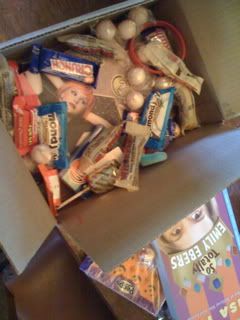 And now, here are the winners with their valuables!!!
In the Political Season category is Jim Danielson . . .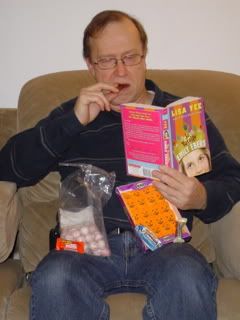 Be sure to check out Jim blowing up his prize Peeps over on
his blog
.
Jim told us, "After receiving the prize package in today's mail, I carefully unpacked Horror Eyeballs, a variety of fun size candy bars, an autographed copy of So Totally Emily Ebers and a package of pumpkin peeps. I was hoping to find that Peepy had stowed away in the package . . . No such luck. It goes without saying she would have been promptly sent home."
Our Grand Prize winner was Sid Fleischman Awardee
David LaRochelle
! We are happy to see David make good use of the googly eyeballs . . .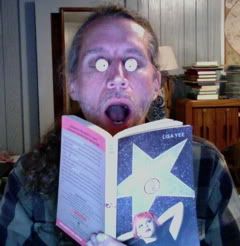 Here's what David had to say. "Your bodacious prize package of gumball eyeballs and the ARC of ABSOLUTELY POSITIVELY arrived safe and sound. As you can see, I've been riveted to your book ever since it was delivered. A full report will follow when I finish. For now, I'll just say I couldn't keep my eyes closed - I had to keep reading!"
BTW, I had some friends (who's names I borrowed and put in ABSOLUTELY MAYBE ) at my house recently. So I had them sign David's book, too . . .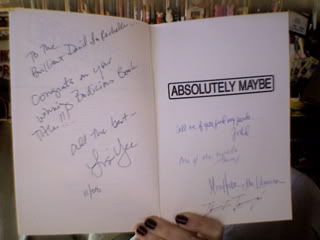 Speaking of books (how was that for a smooooth transition?),
Roger Sutton
, popular
HORN BOOK
editor/blogger/bon vivant,

asked
Katherine Paterson
,
Daniel Craig
,
Laura Vaccaro Seeger
,
Colin Firth
as Mr. Darcy, and
Moi
to write short essays on The Best Book We've Ever Given or Received.
Here's Daniel telling Roger and the Queen of England about his HORN BOOK essay . . .

Check out what we wrote
in this issue . . .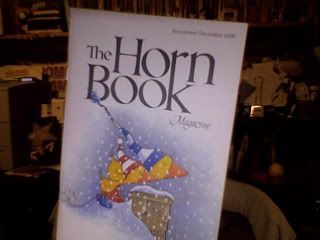 (Unfortunately two of the writers sent in their pieces too late for publication.)
And lastly, if you haven't done you holiday shopping yet (not to rub it in, but I'M ALL DONE), The
Three Silly Chicks
have asked Peepy and Moi to help spread the word about this
great holiday gift
. Pretty cool, eh?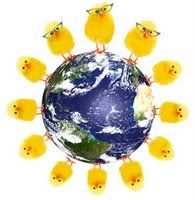 Subscribe to Lisa Yee's Blog and get her fresh baked blogs e-mailed to you!