This past weekend, after
UCLAing
, I attended a very chic book party . . .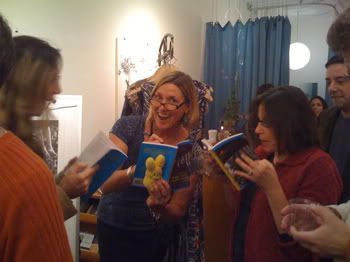 It was held at uber-cool-I-want-all-this-stuff store,
Matrushka
.The celebration was for the paperback launch of the novel,
THE HEIGHTS AND DEPTHS AND EVERYTHING IN BETWEEN
by
Sally Nemeth!
(That's Sal above.)
Is this a trend? Holding book launches at fab fashion-esque stores? Not too long ago, Peeps and I
were here
. . .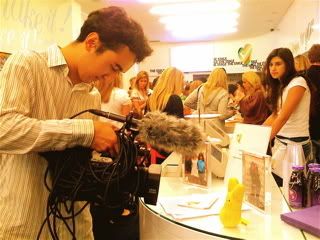 (Yes, that's Peepy being interviewed for TV.)
At Sally's party, there was a delightful assortment of snacks . . .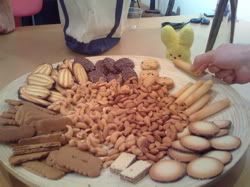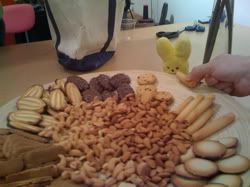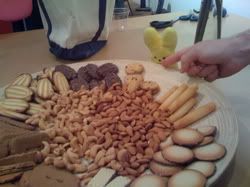 And there was a delightful assortment of book launch party-ers . . .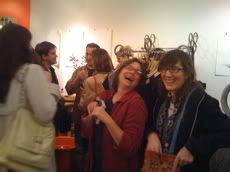 Including
Peepy's arch frenemy
, Amy Goldman Koss . . .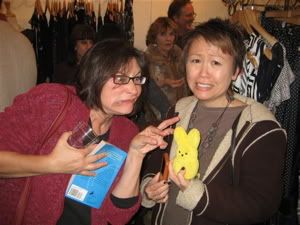 A lotta
Los LAYAs
were there, too. They were hard to wrangle . . .
However, someone yelled, "Free food and beverages!" and they snapped to attention . . .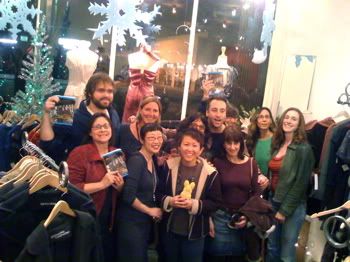 (In no particular order:
Sally
,
Kerry Madden
,
Moi
, Jude Law,
Michael Reisman
,
Sasha Watson
,
Leigh Purtil
,
Ben Esch
,
Paula Yoo
,
Eileen Rosenbloom
, Matt Damon,
Amy Goldman Koss
)
Now, over in the
Silly Chick
Department of this blog . . .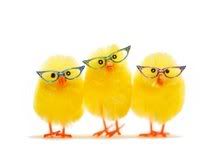 . . . I'm honored to be an
Honorary Silly Chick
. Check out my hat and specs!
Next Blog: What
Mo Willems
mailed me.
Subscribe to Lisa Yee's Blog and get her fresh baked blogs e-mailed to you!