We recently had our 54th-esque Annual LAYA Party. (BTW,
LAYAs
stand for Los Angeles Young Adult Authors -- I KNOW, it should be LAYAA, but no one will listen to me!) The gala took place at Amy Goldman Koss's house and bomb shelter. Yes, she has a full-sized bomb shelter!
For the
Dirty Santa/White Elephant
game, Puppy and I wrapped a delightful/classy gift . . .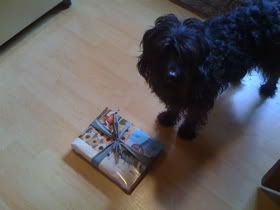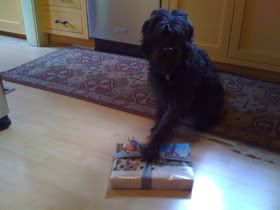 (She didn't want to part with it, but I told her she'd get something nice from Santa Dog if she did.)
There was much food and merriment at the party . . .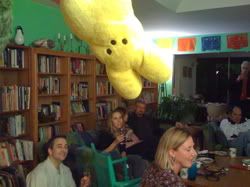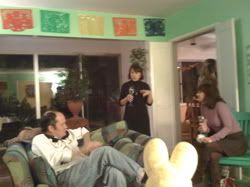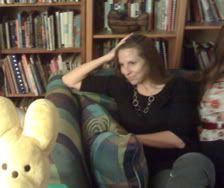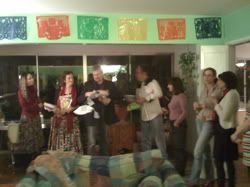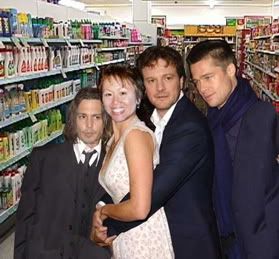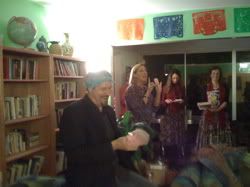 And at one point we all ran outside and made lovely snow angels and a crowd of snowmen . . .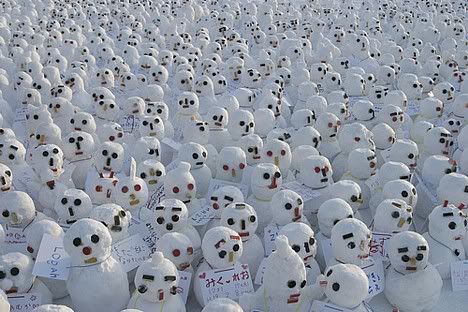 Okay, we didn't do that, this being Los Angeles. But had there been snow, we would have. However, we did do our annual gift exhange/gift grab. Sonya Sones picked the gift Puppy and I wrapped . . .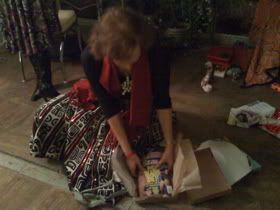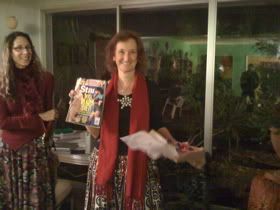 But Carol Snow grabbed it from her. Can you blame her? After all, it was a STAR magazine about Britney Spear's "deadly diet," PLUS a good supply of fun-sized treats! (It's taking me a while, but I'm working my way through our stockpile of Halloween candy.)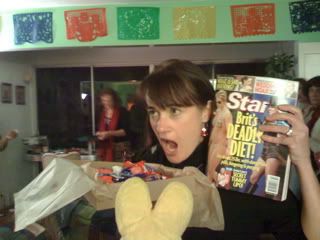 When it was my turn to pick a gift, I grabbed a handknit scarf that Eileen had picked. It was only fitting since Sally Nemeth made it with the very yarn and knitting needles I brought to the LAYA Holiday Bash
in 2007!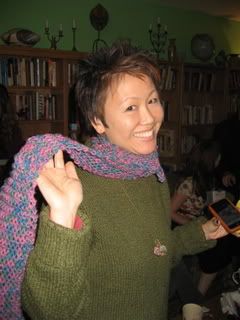 HAPPY HOLIDAYS from the
Los LAYAs
who attended the party and from those LAYAs who had notes excusing them from the event. (
Cecil,
you can come up with a better excuse than being out of the country, can't you?)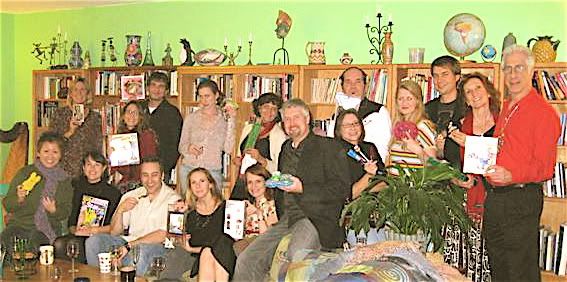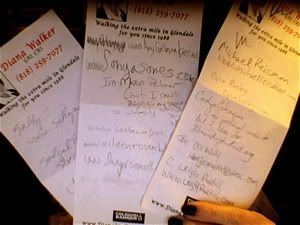 Party-goers in the order I had them sign the (above) sheets of paper:
Michael Reisman
,
Cylin Busby
,
Carolyn Cohagan
,
C. Leigh Purtill
,
Amy Goldman Koss
,
Sonya Sones
,
Brad Pitt
,
Iva Marie Palmer
,
Sasha Watson
,
Colin Firth as Mr. Darcy
,
Eileen Rosenbloom
,
Mark London Williams
,
Sally Nemeth
,
Johnny Depp
,
Carol Snow
,
Carol Tanzman
and
Moi.
Oh! And speaking of authors and therefore books,
this Washington Post article
raises an issue that's been bantered about on the blogs lately. Do you think that Newbery books turn kids off to reading?

Subscribe to Lisa Yee's Blog and get her fresh baked blogs e-mailed to you!