REMINDER . . . REMINDER . . . the Lisa's Second Annual Photo Caption Contest closes on WEDNESDAY, so get those clever captions in. Fame, fortune (or another swell prize) and the respect of the entire literary community could be yours!!!

Yesterday I got back from Dallas. I was giving a keynote at the ALA Joint Conference of Librarians of Color. The trip started off tragically. You see, I have an iPod. I had been listening to TWILIGHT, a marvelous book that makes me want to be back in high school so I can meet a handsome vampire and get all swoony and drive a nice truck.

I settled into my seat, only to discover . . .


. . . eEeeeeEEeeekkkkkkkk . . . I had WIPED OUT my iPod so there is no TWILIGHT on it. Plus, I DID NOT BRING A BOOK!!!!

Sigh.

Once at the hotel, things began to look up . . .


. . . because there was a lovely gift basket, complements (er, compliments? No, I think I was right the first time. I always get those two confused. And do you know what else? I can never spell maintenence.) Oh. Back to the basket. This was from the ALA JCLC. It had chocolate! And other fun stuff, including HOT SPICY BBQ mix, which I ate at MIDNIGHT, and then couldn't sleep because I was thirsty all night.

The next day I met with stunning Scholastic-ite Lizette Serrano. In the Green Room (actually, it was beige) we rendezvoused with the other keynote speaker for the Children's Author Lunch, the talented mega-blogger Cynthia Leitich Smith, and her other-half, author Greg Leitich Smith.

During lunch, Lizette and I questioned . . .


. . . what we were served.

Cynthia was first up to speak and was MARVELOUS. Then it was my turn . . .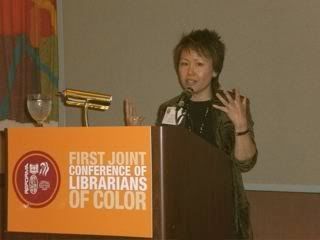 . . . I started out by wondering what color I was supposed to be, since it was a conference of Librarians of "Color." And I reminisced about how I used to sniff the Crayons in a new box, and how the "flesh" color wasn't my flesh color. When no one in the audience admitted to sniffing Crayons, I thought I had given out too much personal information. But then, when goaded, several people finally owned up to it.

The speech went really well and we all had a lot of laughs. Only not during the part when I told about how I stumbled across a KKK rally and freaked out. Later, I confessed that when I was a child, I thought "obnoxious" was a Chinese word because my parents always called me that. Then once when a friend was over, my mom said, "Lisa stop being obnoxious." So I turned to my friend (who was not Chinese) and said smugly, "Do you know what that means?" And she replied, "Everyone knows what obnoxious means." Oh.

After the speech was a booksigning . . .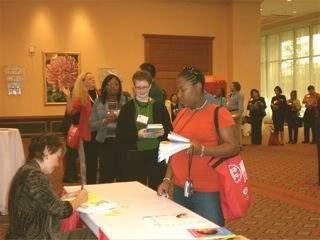 . . . I had no idea the line was so long, because I only looked at the person in front of me. Then Lizette said, "Lisa, we're going to need to talk before the IRA." (That would be the International Reading Association Conference in Toronto, not the Irish Republican Army.) After that I tried to speed things up, only I got nervous and kept spelling my own name wrong.

Lizette took me out to dinner. We both thought the restaurant was called "YO! Steakhouse." But apparently, it was Y-O Steakhouse. (The doorman corrected us.) I like our version better. We had rattlesnake (blech!) and buffalo (yum!) and steak (yum, some more!).

Then it was time to meet up with Cynthia and Greg for drinks. Greg told me to meet them at the horse statue in the lobby, but I told him I didn't notice one there. He thought I was nuts. This is why . . .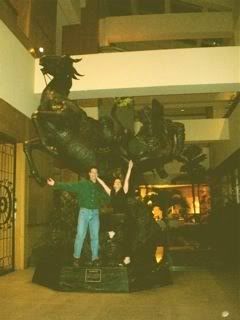 . . . okay, so it's a BIG statue. I swear, I never noticed it before!!! (But it was a good thing Greg and Cynthia waved at me.)

The next day it was time to go home. I had some time to kill, so I went to Neiman Marcus. I was sooooo embarrassed because I bought a gift for someone and when I handed over my Visa card I was told, "We only take American Express, cash and checks." I gave them cash, then rushed out to find an ATM machine so I could afford cab fare to the airport.

I worked at Neiman Marcus in Beverly Hills (we called it Needless Mark-up) when I was in college. Here's a partial list of celebs I waited on: Brooke Shields, Angie Dickenson, Bob Dylan (yes!), Donald Sutherland, SpongeBob SquarePants, Tony Bennett, and Sally Kellerman. (One of those isn't true.)

Today, home. I know I'm back because stuff like groceries have to be bought. Here's an accident that occurred . . .


. . . somehow the groceries got wedged in the minivan sliding door.

The bag ripped, but we were able to save the food. And so, the exciting life of an author goes on.