Lisa's 2nd Annual Photo Caption Contest is now officially closed.

The talented-good-looking celebrity judges will be debating/arm wresting to decide on the winner over the next few days. Which means that the Grand Prize captioner will be announced on Monday, or Tuesday, but probably Monday if I'm not too jet-lagged. (I'll be leaving soon for the SCBWI Iowa Conference where I'm giving the closing keynote, on a panel, and teaching a workshop.)

In the meantime, here's some Peep-y stuff for you. (My kids are sick of this, but I though you might not be. Yet.) Oh, and I am aware that you, or one of my editors, might be asking, "Exactly how does this relate to authoring, especially since you, Lisa Yee, are on a tight deadline?" Well, uh, it just does.

And now . . . it's time for . . . THE BATTLE OF THE PEEPS!!!!! (Microwave version.)

Ghosts or Pumpkins. Go ahead. Take sides . . .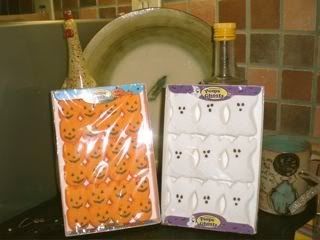 The Pumpkins were smaller, so I let them double up to be fair. Then each was armed with their weapon of choice. Both selected sharp handmade wooden sticks . . .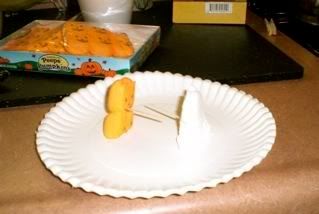 (Ghost didn't show up well in the photo and I wondered why. Until, duh! It's a GHOST.)


They faced off, scarily . . .



And the competition began. It was dizzying . . .



The battle was fierce, but Ghost popped first . .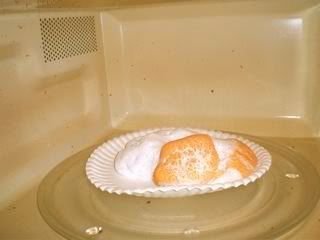 Afterwards, a crowd gathered. Despite the protests of Ghost's groupies, Pumpkin(s) was declared the winner . . .




A dignified ceremony was held in honor of both brave and sugar-laden-130-calories-per-serving Battling Peeps . . .




(This blog is dedicated to Ed Masessa of Scholastic Book Fairs. Ed is under the impression that my being in possession of a new digital camera is a dangerous thing.)

(Teen just came in and I showed this to her. She said, "Uh, yeah. Okay. Great. And how much of your book did you get done today?" Son was in earlier. His response to the battle? "Nice, Mom. Can I go to my room now?")