Eeeeeekkkkkk, so much going on right now. The holidays, the first draft deadline of CHARM SCHOOL DROPOUT, the holidays. I'm not even going to pretend to have any organizational skills left. Instead, here's random stuff . . .

1. Public humiliation.

Some of us are better at it than others. Robin Friedman's new novel is called THE GIRLFRIEND PROJECT. To help celebrate its launch, Robin asked several authors including me and my pals Brent Hartinger and Sara Zarr to recount a dating disaster. To read/feel sorry/superior to these people, check this out. The authors are listed by initials. (If you've read STANFORD WONG FLUNKS BIG-TIME, you'll see that I worked my disaster into the novel. Hey, it's all material, right?)

2. Da Bomb.

The Annual LAYA (Los Angeles Young Adult Authors) Holiday Party was last weekend.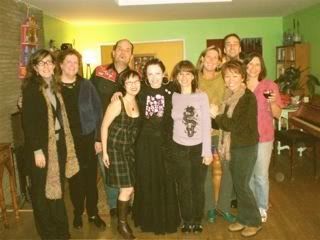 (Seen here: Kerry Madden, Betty Birney, Mark Williams, Paula Yoo, Erin Vincent, Eileen Rosenbloom, Sally Nemeth, Michael Reisman, Me, and mostess hostess, the glorious Amy Goldman Koss, gripping the alcoholic beverage.)

We did fun things, like play Dirty Santa, where you steal each others presents.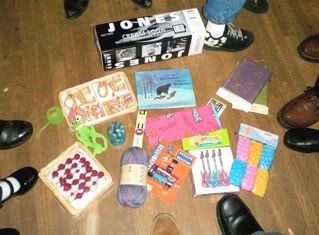 (Seen here: A fine assortment of deluxe gifts. The best part was when Frank Birney, actor extrordinaire and spouse of Betty, ended up with the shower caps. Frank is folically challenged.)

We also took self-photos.


(Seen here: Lisa and Paula Yoo.)

Sigh, I'm getting a little better. As a point of reference, here's a previous self-photo.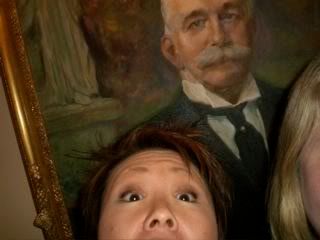 (Seen here: Lisa and Rachel Cohn.)

But the best part (okay, one of the best parts) of the party was Amy's BOMB SHELTER. Buried deep beneath her abode was a fortified fortress the size of a three-bedroom home. There were scary corridors, metal ladders (to climb up to whatever civilization is left after the bomb), claustaphoic rooms, and more. Wheeeeeeeee!!!

3. Mojo Music.

Jo Whittemore tagged me with this . . . List seven songs you are into right now. No matter what the genre, whether or not they have words, or even if they're not any good, but they must be songs you're really enjoying now. Post these instructions in your livejournal along with your seven songs. Then tag seven other people to see what they're listening to.

I'm too lazy to tag seven people, especially since it takes me HOURS to get those little people head icons up. However, here's what's on my iTunes at this very moment:

- Mr. Tambourine Man by Bod Dylan -- oops, that should be "Bob"
- Tears in Heaven by Eric Clapton
- Hallejulah by Jeff Buckley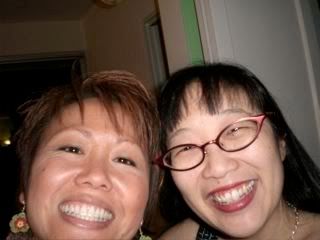 (Seen here: Better self-photo of Lisa and Paula. BTW, Paula wrote the award-winning picture book THE SAMMY LEE STORY, which I am giving to a friend -- JULIE don't read this!!! -- and I forgot to get Paula to sign it. Rats.)

Okay, back to the music . . .
- Christmas is Here from A Charlie Brown Christmas
- Both Sides Now by Joni Mitchell
- Your Song by Elton John
- What'll I Do by Harry Nillson

As you can tell, when I write the music needs to be mellow.

4. And, at last, Good Dog.

Here's Puppy not being bad!!!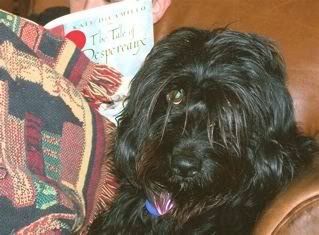 (Seen here: Puppy guards Son as he reads a book for school.)

Disclaimer: I realize there are lots of spelling errors in this blog. However, I, er, did them on purpose so that you could find them. Yes, yes, that's it. It's a spelling game created especially for you!

Happy Holidays!!!