For my first blog of 2007, I thought I'd start off with the another FABULOUS Annual Contest. Only this one isn't a photo caption one, it's one for a BOOK TITLE.

Disclaimer #1: I didn't make up the game, but I did place 2nd in a national book title contest. However, I don't remember the exact rules, so I'm going to sort of make up my own version.




RULES . . .
1. Think of a title from a children's/middle grade/young adult book.

2. Change the FIRST LETTER of ONE of the words to make it into a whole new title.

3. Then add a sentence describing the new book.




MORE RULES . . .
1. Enter as often as you'd like (and encourage others to do the same).

2. No nasty stuff.

3. Employees must wash hands before returning to work.


TIMING/JUDGING . . .
I'm going to give this contest a week or so. As always, there will be good-looking celebrity judges. Past judges have included:
Arthur Levine
Betsy Bird
Pamela Anderson
Jodi Reamer
Bruce Coville
Puppy's boyfriend
Sid Fleischman

Disclaimer #3: Two of those listed have not judged one of Lisa's contests, yet.


PRIZE(S) . . .

The winner will receive an autographed ARC of SO TOTALLY EMILY EBERS (releasing in stores April 2007) and other marvelous prizes.




Last Annual (photo caption) Contest winners won these . . . (and yes, a magical plastic slug was included)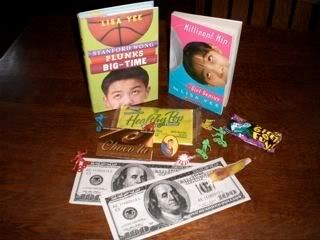 Good luck!!!