On Sunday, I was at the super fabulous Explore-a-Story event. I started freaking out from the moment we walked into the lobby. There, in lights, was my name along with Carol Burnett's!!!!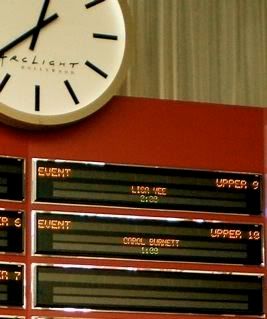 (Above: Something I never thought I'd see.)

It was soooooo surreal. I am a HUGE Carol Burnett fan, and my goal for the day was to meet her. (In high school my best friend and I would launch into our Nora Desmond imitations about once an hour, until someone would ask us to stop-- which was about once an hour.)

The event itself was WONDERFUL. Son, a huge fan of THE THIEF LORD, got to meet Cornelia Funke and she drew a picture for him. The Mayor of Los Angeles gave a speech. There was food and fun EVERYWHERE, plus I got to meet the owner of Pinks and tell her how much I liked her hot dogs.

Yet, despite all the festivities, I was in one of those no-one-will-come-see-me-because-John-Lithgow-is-signing-books-while-I-am-reading-modes. This is a reoccurring worry of mine anytime I do an author appearance. (Except for the John Lithgow part.)


(Above: I was in Theater 9, while John was in the lobby signing.)

Naturally, I conveyed my concerns to Hubby about 40,070,032 times. So later, Hubby saw John Lithgow in the VIP lounge and told him that I was getting all weird. And John wrote me this note . . .


(Above: Eeeeeeeekkkk!!!!)

My reading went really well. I read from all three books . . .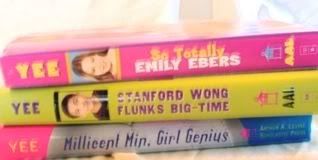 for the first time ever. (And people showed up!)

David, from Wonder of Reading, assisted me . . .


(Above: David as Stanford Wong.)

And guess what?!?!

I got to meet Carol Burnett!!!


(Above: Okay, so I was a little nervous and in total awe.)



(Above: Okay, here I managed to pull myself together. But although I looked calmer, my brain was saying, "OMG! OMG! OMG! I am standing next to Carol Burnett! OMG!!!")

It was a fine day. So totally.