Ever want to write a story, but not had enough time or paper?

Now you can! And maybe even win THESE fabulous prize(s).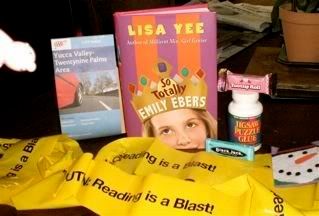 (Note: The winner is required to accept all the prizes, including the plastic pig, Valentine's Day candy, and autographed copy of SO TOTALLY EMILY EBERS.)

Lisa Yee's Really Short Story Contest was inspired by this man . . .


(Um, that would be William Steig.)

He has a series of books that use letters and numbers to create enjoyable readings . . .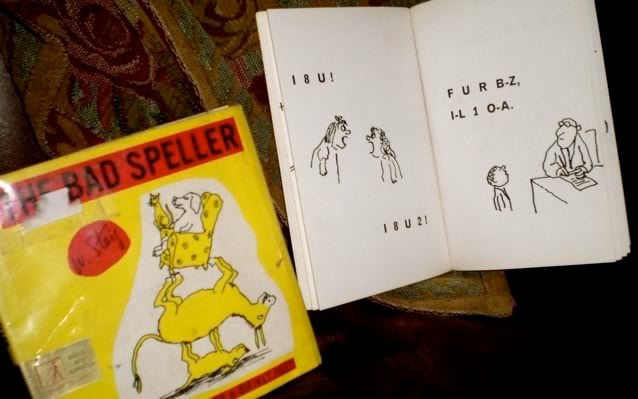 However, we're going to move it up a notch and . . .

WRITE AN ENTIRE STORY IN 25 LETTERS or fewer!!!!!

Here are the rules:

1. Write a story in 25 LETTERS or NUMBERS, or fewer.

2. Give your story a beginning, a middle, and an end. Add pathos, drama and/or humor and get extra points.

3. No nasty words.

4. You may use? as much, punctuation -- as you'd like!!!!!!!!!!!!!!

5. Include a translation of your story, just in case we can't understand it.

6. You may enter often, as long as each entry is different.

7. The contest will end next Sunday night at 11:07 P.M. unless I forget or change my mind.

Story examples:

Story: c d b? d b s a qt. o! d b hit d 3. d b s dead.
Translation: See the bee. The bee is a cutie. Oh! The bee hit the tree. The bee is dead.
(Yeah, okay, so it's not one of my better works. Still, it's an example of what the judges are looking for. Only better. A lot better.)

Story: kc 'ad 2 mne lmn-ade. e s go-n pp n d tp.
Translation: Casey had too many lemonade. He is going pee-pee in the tee-pee.
(Teen contributed that gem.)

Story: f u ne x? s v f x. f u ne m? s v f m. ok m n x.
Translation: Have you any eggs? Yes, we have eggs. Have you any ham? Yes, we have ham. Okay, ham and eggs.
(One of the good-looking celebrity judges remembered this one, but can't recall from where he/she heard it from.)

Okay . . . are you ready? GO WRITE!!! And good luck . . .

The judges
are reading!!!

(And if you're feeling nostalgic, remember how fun, silly and subversive the last contest was!!!