When we last left off, I was going to a movie premiere with my friend Johnny Depp . . .



Wait. Oops. Wrong gala. We were at the SCBWI National Conference!

On the night of day three, I attended the Writers House Par-tee hosted by agent Steven Malk. There were lots of cool authors, Hollywood types, and chic-trendy-well-dressed people in attendance. However, the big draw (at least for me and Peep) was the candy bar!!!!

A whole table filled with CANDY! and little bags that you could fill with CANDY! Peepy and her friend Bartlett, who lives with Paula Yoo, who is both an author and a Hollywood person who writes for television, Paula, that is, uh . . . where was I? Okay. Let's start over. Peepy and Bartlett were pleased with the CANDY! assortment . . .



So pleased, that they got piggy . . .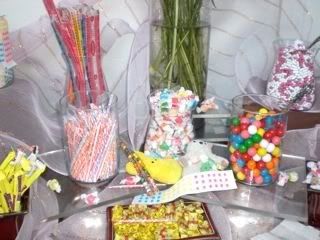 And then, and then, well, to witness a Peep puke and a Bear barf is not a pretty sight . . .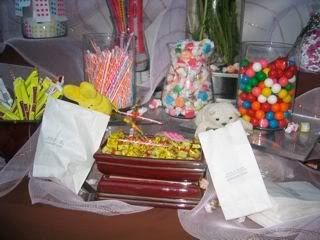 The next day, Day Four, I was due to give a keynote speech to ten million (I'm using round numbers) people . . .



It's weird. I don't get scared giving speeches . . . unless I'VE LOST MY NOTES!

So, I get up on stage and my notes are MISSING. Erp. It seems that Lin Oliver, who introduced me, accidently (hmmmm . . . or WAS it an accident?) took my notes with her when she left the stage.

Anyway, they were returned and I was able to talk about "Ethnic Diversity: Should Who You Are Determine What You Write." I realized I was running out of time, so I began to edit and ad lib while I was up there. Still, I think it went well and no one threw carrots at me or cried . . .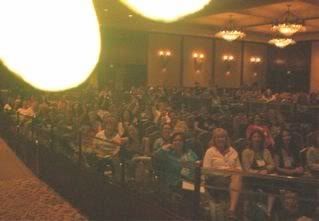 (Above: The audience on the other side.)

Afterward, it was time for the CUPCAKE! fest and autograph party . . .


(Above: When you sign books it always helps when people write their names on Post-its so you can spell them correctly. I've been known to misspell my own name. Sad, I know.)

And then, it was off to a Faculty Party! And then home . . . nope! The next day was a Board of Advisors meeting. It was my first and I really learned a lot, plus no one threw carrots at me or cried!

Okay, I'm going to go take a nap now. Reliving all of this is exhausting! (Weird, the conference was only four days, but it's taken me a week to process it all.)