Ever go on a blind date?

I did, this weekend. Sort of. Kind of. Okay, not quite, but I did meet someone with whom (who?) I had exchanged words with but had never met before.

Megan McDonald wrote the new Julie series for American Girl. The books are historical fiction(s) based in the . . . 1970s. (Can you dig it?) I wrote GOOD LUCK, IVY, a book about Julie's best friend. In order to do this, I got drafts of Megan's manuscripts and then used them as a springboarded to develop Ivy's storyline. Megan and I had spoken on the phone a couple times, but Friday was the first time we ever met in person.

I was a little nervous. What if she HATED me? What if I HATED her? What if she HATED sock monkeys?



(Above: Well, even if we didn't get along, at least I got to ride in a LIMO!)



(Above: Peepy was convinced the LIMO! was hers, alone.)

Phew! There was nothing to worry about. Megan and I instantly bonded. And get this, she's a sock-monkey-loving-author, too!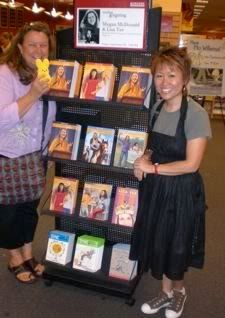 (Above: Megan and Moi at a book signing at Borders in Torrance, CA.)

The next day we did another signing in Thousand Oaks . . .


(Above: That's not Megan, that's Julie, not the doll, but one of the people I dedicated the Ivy book to. The other person is my sister-in-law Debbie. Um, not the other person standing there, that's me. The other person the book is dedicated to.)

But the really BIG EVENT was on Sunday. It was the launching of the Julie and Ivy dolls at The American Girl Place in Los Angeles . . .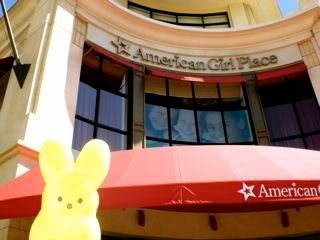 Son was a good sport and came along, but after about five minutes he had to leave . . .


"Mom, they (girls) go to the place. They get the doll. They open the box. They take out the doll and they never let go of the thing. It's repulsive. With a skateboard you can actually do things."

I did a reading from Ivy's book . . .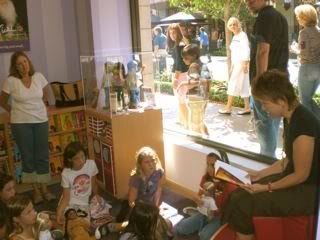 And then a book signing with Megan. We also did a Meet the Author Tea and Q and A which was a lot of fun. Plus there were some really great cinnamon rolls worthy of their own blog.

But what was really exciting was meeting the Julie and Ivy dolls. I mean, how surreal is it to have a doll based on a character you've written about?



(Above: Remember macrame belts and cowl neck sweaters? Even if you don't, just pretend you do, so I won't feel so old.)



(Above: Now Peepy wants a room dedicated to her.)



(Above: Julie and Ivy were naturals in front of the cameras.)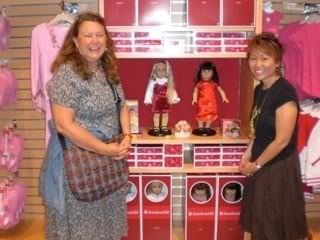 (Above: Megan and Moi with our alter egos!)