The most amazing thing happened the other day.

I got an e-mail. Now, most of what lands in my in-box are pleas for money from Nigeria, companies concerned that my body parts are either too big or too small, or jokes about elephants. But this particular e-mail was a gem and I will treasure it always.

A few months ago, the indomitable Roger Sutton invited me to write an essay for The Horn Book Magazine's September/October special issue "Boys and Girls."



So I wrote about "Brave Orphans, Smelly Boys and Girls Named Katie." My essay began, "I was never a girly girl, but I loved reading about girls. I was especially fond of the 'little' ones--A LITTLE PRINCESS, LITTLE WOMEN, LITTLE HOUSE ON THE PRAIRIE . . ."

I went on to write about one character in particular who/whom I adored. Her name was Katie John and she was the main character of Mary Calhoun's marvelous series that included . . .



A non-girly-girl's girl, Katie John was high-spirited, headstrong and misunderstood--and I instantly bonded with her. My love for the books was so deep that, even though I was only ten-years old, I decided that when I had a daughter her name would be Katie.

Flash forward to last week. There, among my e-mails was one from . . . Mary Calhoun!

MARY CALHOUN!!!

Mary Calhoun, the AUTHOR of the Katie John books!!!

I could not believe it.

I still can't.

Mrs. Calhoun was reading the Horn Book Magazine and recognized an illustration from her book, HONESTLY, KATIE JOHN! It was accompanied by my essay, and she read it. However, before she wrote to me, she also read MILLICENT MIN, GIRL GENIUS and checked out my other books from the library. (Squeeeeeee!!!)

Mrs. Calhoun told me about how diverse her readers are and that even Oprah had said she wanted to be like Katie John. (See, I always knew that Oprah and I were, like, the same person--only she's taller.)

We've written back and forth a couple of times (Mary Calhoun and Moi, not Oprah) and she was kind enough to send me the flyer above and this . . .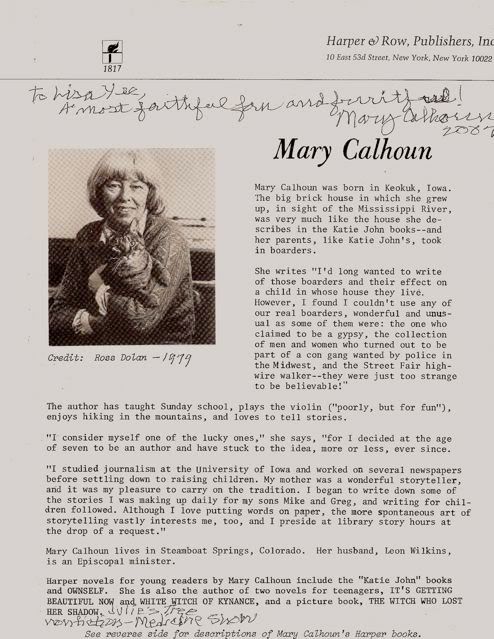 Here's what Mary Calhoun looks like today . . .



BTW, when I received the first e-mail, I started blubbering and showed it to Teen. She gave me a big hug.

"That's great, Mom," Katie said.