EEeeeeeeeeek!!! If you paid close attention, you would have seen GOOD LUCK, IVY on OPRAH on Wednesday. American Girl and Miley Cyrus/Hannah Montana were featured on her show.

If you think I'm delusional, ate too much chocolate, or am sleep deprived* click here for the link to "Where No Girl Has Gone Before." Oprah narrarated the segment which includes the doll hospital (and what an American Girl doll looks like after someone tossed her in the dryer) and how the cover of IVY was created!

Or, if you'd rather, you can admire the fine museum-quality photos of the show that I took of my computer screen . . .



(Above: Here's a draft of the GOOD LUCK, IVY manuscript.)



(Above: Editor/Julie Andrews fan Jennifer Hirsch explains that models are photographed for the book cover. You can meet the Ivy model here.)



(Above: Here's the sketch that illustrator Robert Hunt made.)



(Above: Look how big his oil painting is!)



. . . and voila -- the cover of GOOD LUCK, IVY!

Later in the show, Oprah unveiled the 2008 American Girl Doll of the Year--a redheaded ice skater named Mia. But since Mia is not available until 2008, guess what all the girls in the audience got . . . ?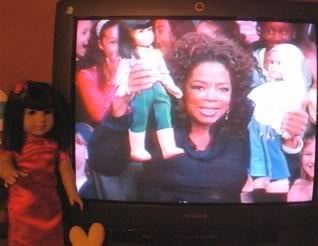 Yes! Their own Ivy dolls . . .



Peepy was a little miffed that the show wasn't all about her. However, she's still holding out for a feature film once the writers strike ends.

BTW, if you look VERY carefully, squint, and use a magnifying glass, you can see the cover of Ivy's book above the doll on the bottom and between the two dolls on the second row . . .



Wheeeee!!!!

*Actually, I am all three, but Ivy really was on OPRAH.