We last left off in Atlanta where Peepy was being interviewed during the IRA Conference . . .



I've heard there were 25,000-ish attendees. However, I counted and there were actually 37,598 people (and one pretty Peep).

It had already been a MEGA day and was just gearing up. After our video interviews, I headed to the Joint Publishers Reception. The (big) room was filled with all 37,598 people (and one pretty Peep) and great hors d'oeuvres that I couldn't eat. That's because I was too busy hobnobbering with the likes of these attractive-award-winning-literary-types:

Newbery-ish Jerry Spinelli . . .



National Book Award-y Jeanne Birdsall . . .



Sid Fleischman Humor Awardeeee Sara Pennypacker and Borders Original Voice-oh Andrea Beaty . . .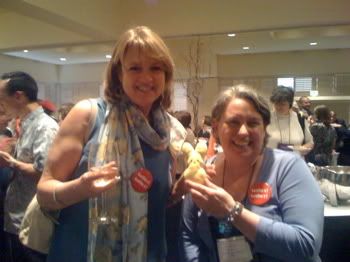 We also tete-a-teted with Fashion Icon and editorial director of Aladdin Paperbacks/Simon & Schuster, Mark McVeigh--seen here with Peepy as she tries to snag a book deal . . .



Next up was a small dinner party with Scholastic folks including Bestseller-ion Meg Cabot and Newbery-esque Christopher Paul Curtis . . .



Then I collapsed from exhilaration/exhaustion. Early the next morning I felt so wide awake (!) and perky (!). (Not really. I'm a night person.) After breakfast, it was time for an enlightening program on Middle Grade Reading where I keynoted . . .



At lunchtime, Peepy and I were able to find our old friends (not that they are old, it's just that we've known them a while) Brent Hartinger and D.L. Garfinkle . . .



From there, we hit the convention center where we met up with zillions of upstanding citizens. Like, Parents Choice choice Barbara O'Connor . . .



Son's Current Favorite Rick Riordan . . .



Little Brown editor Alvina Ling-- seen here with Peepy as she tries to snag a book deal . . .



Printz-ly John Green (who I once grilled) and editor Julia Strauss-Gabel with their new book Aper Wns . . .



Pura Belpre Medalissst Pam Munoz Ryan . . .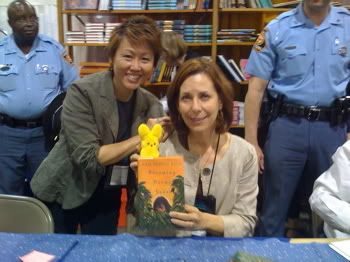 Mirrorstone editor Stacy Whitman--seen here with Peepy as she tries to snag a book deal . . .



All too soon, it was back to the airport. We weren't the only ones who were pooped. Guess who we caught sleeping? Yes, Golden Kite Award-oo Marla Frazee . . .



Oh, wait. We can't forget this grand encounter. LOOKIT--America's very first ever, ever, National Ambassador for Young People's Literature . . .


Yes! It's Peepy!!!

What? Oh. Oops. Um, er, that would be John Scieszka. (I won't tell Peeps if you don't.)





Subscribe to Lisa Yee's Blog and get her fresh baked blogs e-mailed to you!