The Almighty Good-Looking Celebrity Judges have spoken.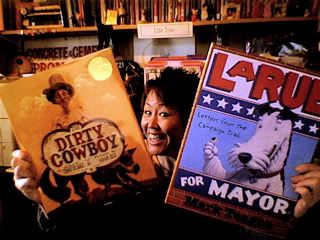 (Above: The Good-Looking Celebrity Judge's books -- THE DIRTY COWBOY illustrated by Adam Rex and LaRUE FOR MAYOR by Mark Teague.)

Yes! We have a winner for Lisa Yee's 489th-ish Annual Bodacious Book Title Contest!!! This year we had practically 7,980,163.9 entries. Here are some of the contestants . . .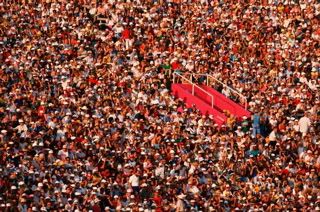 Now, remember, these were the rules:
1. Think of a title from a children's/middle grade/young adult book.
1a. Write the original title. (I added this after the first few entries, so if you didn't that's okay.)
2. Change ANY TWO LETTERS to make a whole new title.
3. Then add a sentence describing the new book. (The SHORTER the better.)

And this was the prize . . . a signed ARC of ABSOLUTELY MAYBE, a used and very scary Oliver Twist DVD, some old gum, and more. (Peep not included) . . .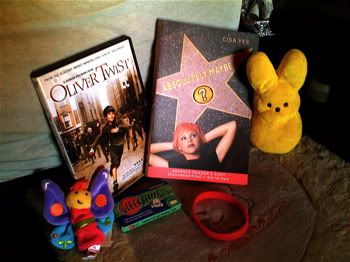 But wait! I have decided to up the ante and add even more to the prize pool. Yes, the Grand Prize winner will also receive bubble gum eyeballs and other fun-sized treats. (You have to take them if you win, those are the rules.)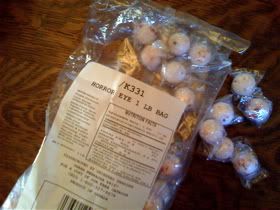 Now, before we reveal the Grand Prize Winner, let's look at some of the finalists . . .




Harold and the Purple Crayon
Harold Ate the Purple Crayon
Follow the purple crayon on an imaginative and exciting journey through Harold's intestines.

Someday This Pain Will Be Useful to You
Someday This Pain Will Be Useful to Boo
Discarded original title of To Kill a Mockingbird




A Wrinkle in Time
A Tinkle in Time
Meg Murry, now the grown mother of a potty-training toddler, folds the time-space continuum in an effort to save her favorite Persian rug.

The Curious Incident of the Dog in the Night-Time
The Furious Incident of the Hog in the Night-Time
An angry young man tries to put lipstick on a disgruntled pig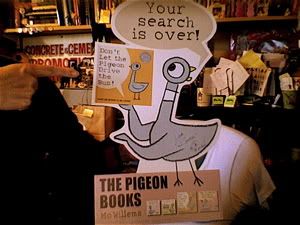 Don't Let The Pigeon Drive The Bus
Bono Let The Pigeon Drive The Bus
In a turning point for worldwide Pigeon Rights, Bono (a self-professed Pigeonitarian) lets the Pigeon drive the U2 tour bus.

And now . . . drumroll, please . . . the Grand Prize Winner this year is . . .



GREEN EGGS AND HAM
GREED, EGOS, AND HAM
The sad but true story behind the big screen adaptation of Dr. Seuss' classic books.

submitted by David LaRochelle

David is also the winner of the Sid Fleischman Humor Award and a friend of mine. However, I had nothing to do with the judging and was not imprisoned with the Good-Looking Celebrity Judges while they were deliberating. I think it's of note that David is a professional contest-enterer. Just check this out!

But wait! It's not over yet!!!
We also have one more award. This is a special prize given out in honor of our political season. The winner will receive an autographed copy of SO TOTALLY EMILY EBERS, a nice supply of chewable eyeballs, and your very own Peeps to pop into the microwave . . .



And the Political Season Book Title Award goes to . . .



Sarah, Plain and Tall by Patricia MacLachlan
Sarah, Palin and Tall
Sara learns that even though life in Alaska can be harsh and unforgiving, courage and inner strength will help you find the love of a fisherman and land a guest spot on Saturday Night Live.

submitted by Jim Danielson

Congrats to all who entered. Your titles were truly inspired! And David and Jim, please e-mail me at lisa (at) LisaYee.com so I may get your bling to you.

Next . . . New York, here I come!





Subscribe to Lisa Yee's Blog and get her fresh baked blogs e-mailed to you!