We last left off in Miami where Newbery-ian Linda Sue Park was caught in the act.

Later-ish, it was time for the SCBWI, FL Conference workshops. My students had no idea how challenging the assignments would be. Here they are writing 25,492 word novels in less than ten minutes--or maybe not . . .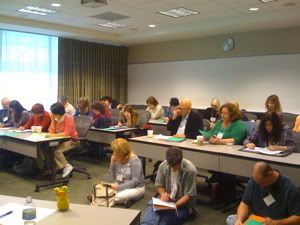 Author/illustrator/author* Mark Teague was afraid that he might run out of things to say during his workshop on illustration. So, he offered me a dollar if I'd ask an interesting question. Can you guess which one I asked?

1) Hey Mark, if you had to eat a raw slug, and could only use one condiment, what would it be--if any?

2) If you were hiking into the woods and fell down, and all your creativity was knocked out of you forever, and you could not longer write or draw, what would your next career be?

3) Can you write out the equation of Quotient Property - Cotangent, Cosecant, and Secant and then diagram it using a color palate of warm hues?

Here's Mark and Moi with my hard earned dollar . . .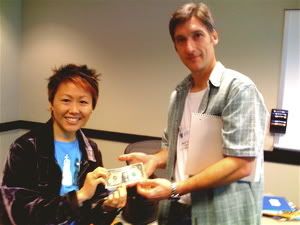 (I asked Question #2. His answer was: Park Ranger.)
*Not only does Mark create PBs, but he's also got a MG novel coming out.

Now then, as you may recall, Peepy was all puffed up over her great manuscript critique. So when she learned that literary agent Ginger Knowlton, VP of Curtis Brown, was at the conference, she was determined to get her manuscript in front of Ginger . . .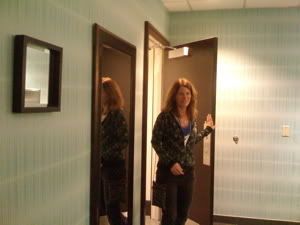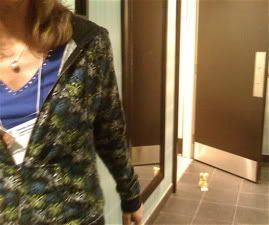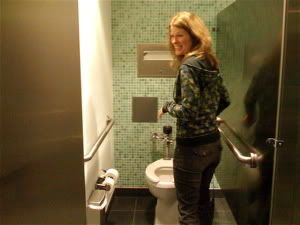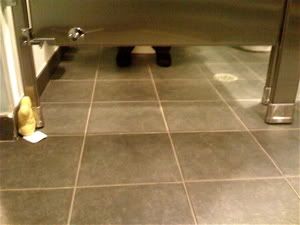 Sadly, Peepy and her manuscript, and all future works, have been banned from Curtis Brown. Forever. Peeps is heartbroken. But let her loss be a lesson on what bad agent ettiquite will get you.

So that we don't end on a tragic note, I need to let you know that Peepy and I concluded our Miami trip with a delicious lunch with new friends and old. Our Cuban lunch took place at a local landmark called Versailles. (Earlier we had eaten at another Cuban restaurant called Las Vegas. I know that I'm terrible with geography, but is Versailles in Cuba? Is Las Vegas? I dunno.)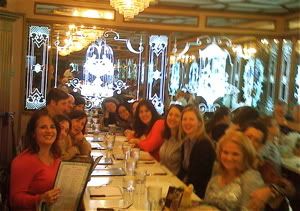 Subscribe to Lisa Yee's Blog and get her fresh baked blogs e-mailed to you!

Or you can click this for a RSS feed...