So then, we just hosted the
Children's Choice Book Awards Gala
!!! (
CLICK HERE
for the behind-the-scenes scoop). After the show the fun continued into the night.
That's right! There was a dessert party!!! Who's that with Peepy? Why it's winner
Nick Bruel
. . .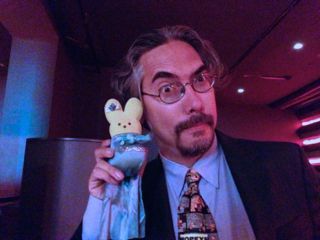 Of course, Colin Firth as Mr. Darcy had a lovely time. He always does. Here he is with finalist
Kim Baker
and former National Ambassador of Young People's Literature
Jon Scieszka
. . .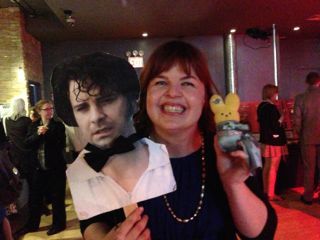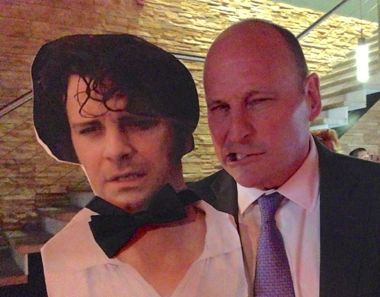 Newbery winner
Katherine Applegate
got all Harlequin Romance-y (she used to write those books!) and gave Colin Firth as Mr. Darcy a kiss. Agent
Nancy Galt
did the same.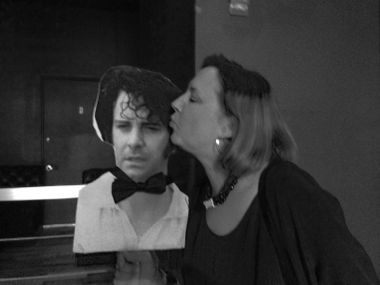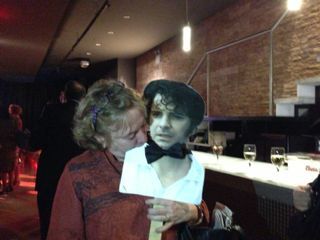 Newbery medalist
Lois Lowry
showed him a good time . . .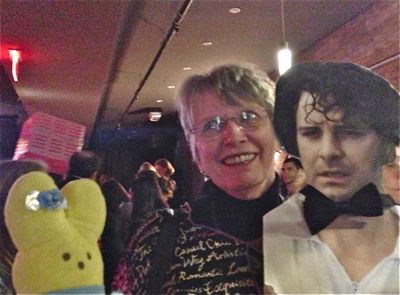 As Caldecott winner
Brian Selznick
had his moment with Colin Firth as Mr. Darcy, MacMillian VP/Asso. Publisher
Angus Killick
waited patiently for his turn . . .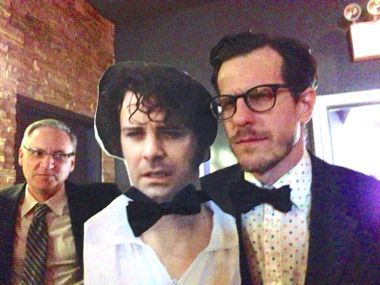 Scholastic VP Publicity,
Tracy van Staaten
, who coined the phrase
"got Peeped,"
hung out with her two favorite peeple, until
Charisse Meloto
, Exec Direcor of Print/Digital for Scholastic, wrestled Colin Firth as Mr. Darcy away from her . . .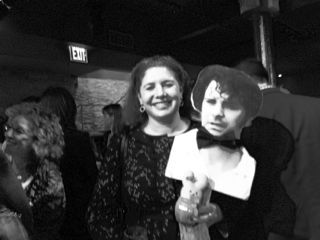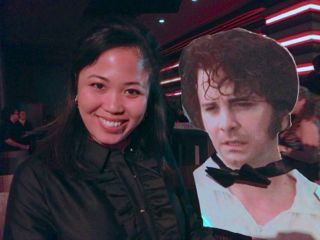 The evening's Impact Award winner, NPR's
Michele Norris
, wasn't about to leave without taking to these two . . .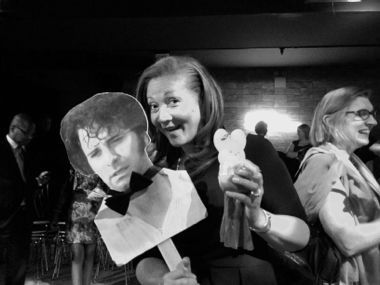 Book award finalist
Shelley Rotner
wasn't about to leave without her Darcy moment . . .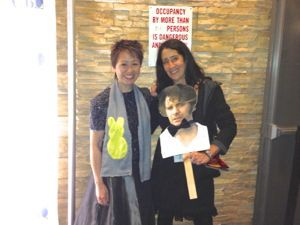 The nightclub lighting made for disco moments as bestselling authors
Meg Cabot
and
Michael Grant
boogied with Mr. D . . .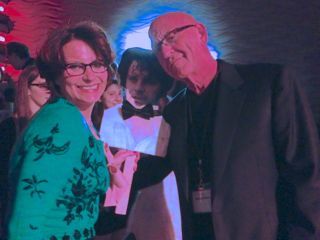 Meanwhile, glorious bags of swag from the
Children's Book Council
were being readied for the
Gala
guests . . .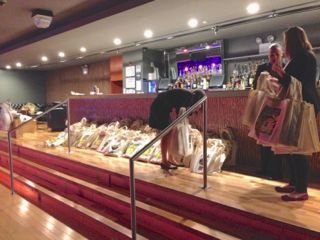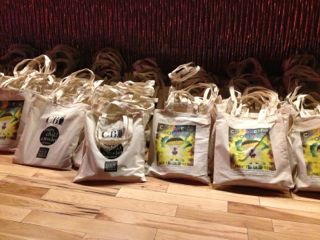 Inside were finalist books, chocolate!!!
Lots of people were talking about the video that my 15-year old son Ben directed, starring Moi. Here's how we did it. We started with a concept -- that I may not be worthy to host after luminaries Jon Sciezka and
Jarrett Krosoczka
. I wrote the script and then we broke it down into scenes . . .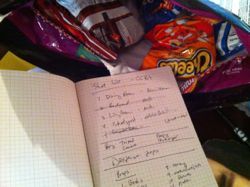 The opening shots involved donuts . . .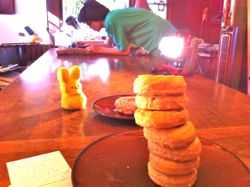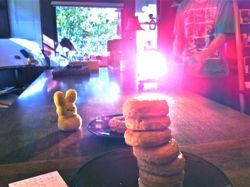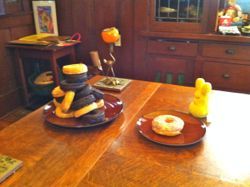 And worms . . .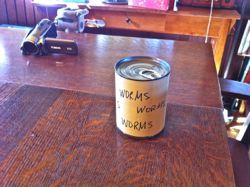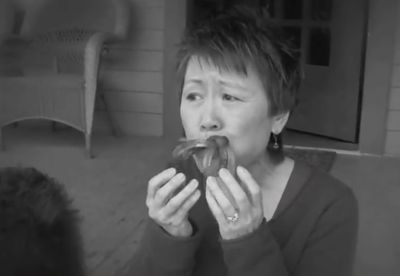 Ben came up with the idea of featuring the
finalist books
with stop motion . . .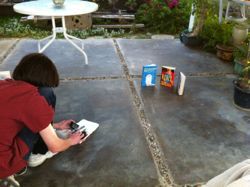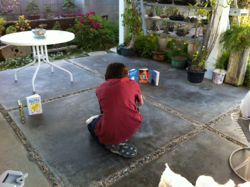 The picture book finalists played Hide 'n' Go Seek . . .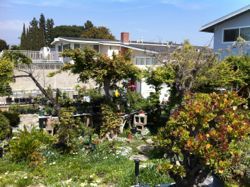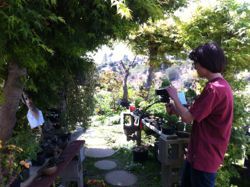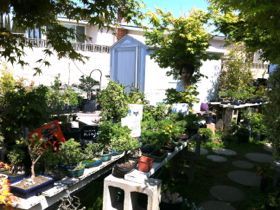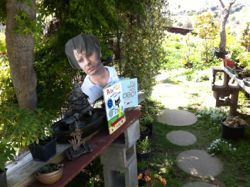 Here's Ben setting up the shot for the Teen book finalists . . .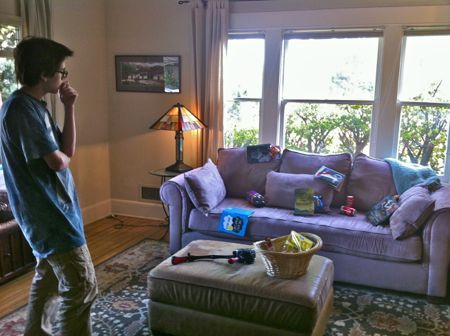 I came up with the idea of having Colin Firth as Mr. Darcy in the video . . .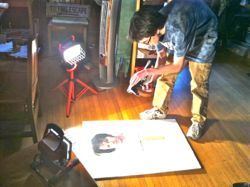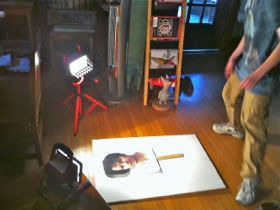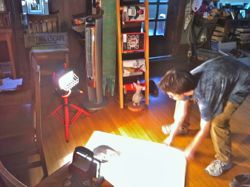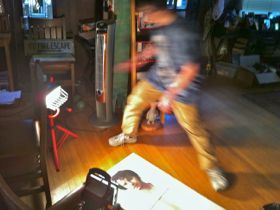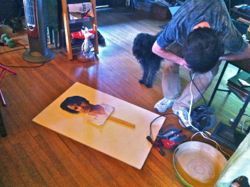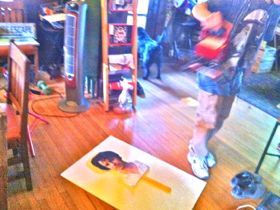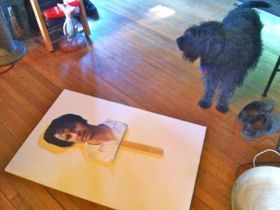 After my scenes were shot, Ben had to piece everything together . . .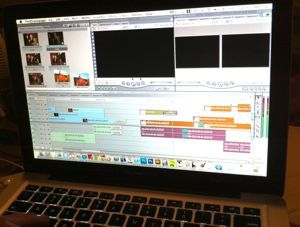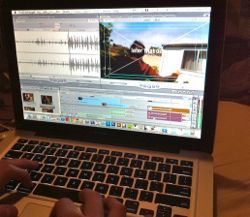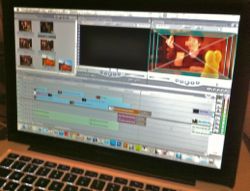 Then I added the voices and sound effects, including Mr. Darcy's!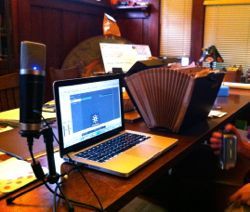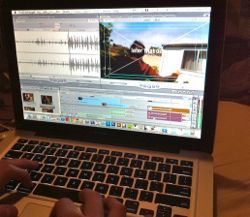 CLICK HERE
TO SEE THE TWO-MINUTE VIDEO that opened the Show.
At the end of the evening, my agent, Writers House's
Jodi Reamer
was chatting with Colin Firth as Mr. Darcy. Jodi and I usually get along quite well. However, that evening we had a little tiff over who Colin Firth as Mr. Darcy belonged to . . .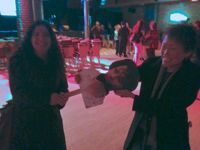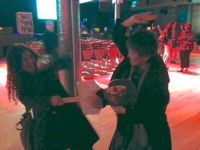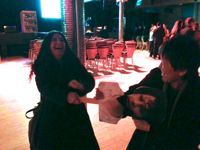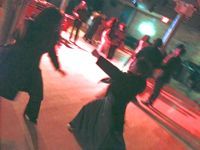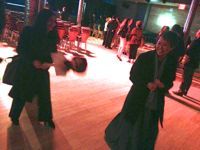 Who won? Why, this person . . .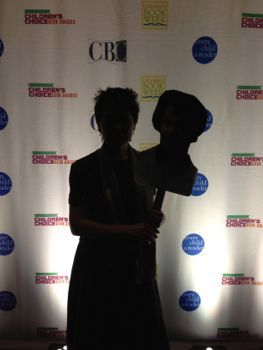 In case there is any question about it . . .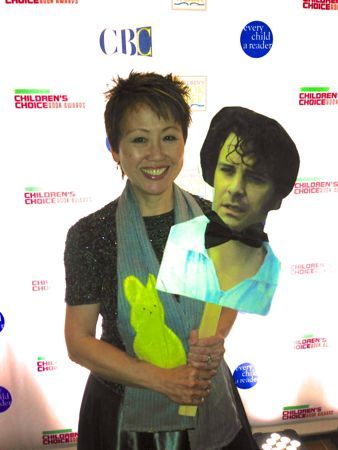 ===========================
Oh, look! If you'd like an autographed book, order from
Vroman's
, tell them who you'd like me to sign it to, and they will mail it to you!"

Disclaimer: No proofreaders were harmed (or even used) in the creation of this blog.
Want to check out Lisa's NEW AND IMPROVED website? Simply
CLICK HERE
.
Interested in having Lisa speak at your school, library or conference?
CLICK HERE
for more information.
Lisa Yee
Subscribe to Lisa Yee's Blog and get her fresh baked blogs e-mailed to you!

Or you can click this for a RSS feed...